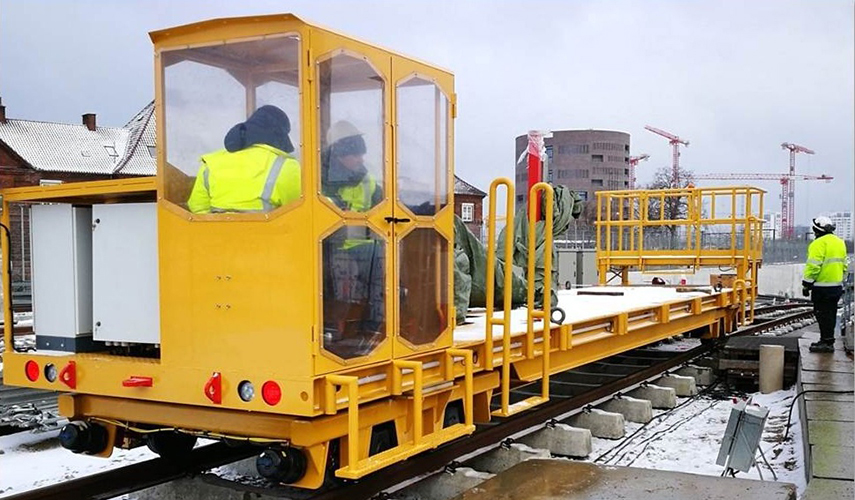 INNOVATION IS GREENER THAN EVER
LOW CONSUMPTION, TOP PERFORMANCE AND CLOSE TO ZERO POLLUTION, THESE ARE JUST A FEW OF THE FEATURES THAT CHARACTERISE THE LATEST ECO-FRIENDLY NOVELTY MADE IN SACE!
Sace Srl has worked in team with Schwarzmuller – one of its main suppliers – to design a fully electric swap vehicle for a leading company in the railway sector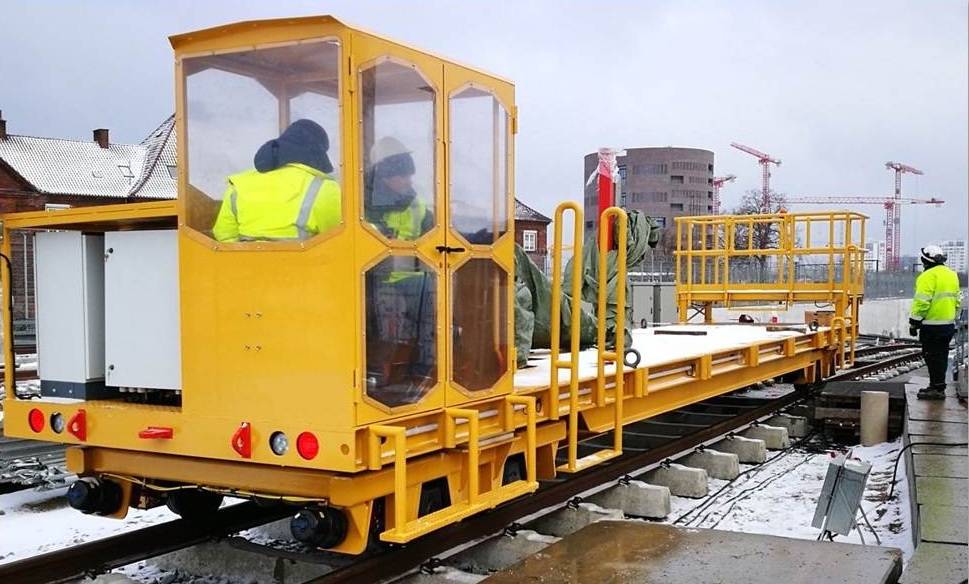 Using the  joystick provided, the operator can control the speed of the swap vehicle from 0 to 30 Km/h, up to a slope of 7.00%.
The 4 Schwarzmuller AC inverters are CANbus synchronised and allow the 4 asynchronous motors to propel the machine. The inverters are capable of continuously optimising current consumption and recharging the batteries on downhill routes and while braking, thereby increasing battery life.
In addition, an inclinometer can be installed to reduce speed on downhill routes, prevent vehicle slipping on wet or icy stretches when fully loaded.
Using the control panel onboard the machine, the swap vehicle can be moved forward at a preset speed (walking pace) so as to allow inspections and processing during motion or small precision movements.
The swap vehicle does not require any brake to slow down the machine, as the electric motors control acceleration and braking. Also in the event of uphill starts, the swap vehicle remains stationary without using electric/pneumatic brakes. The negative electric and pneumatic brakes are used only as parking or emergency brakes.
They are ideal for tunnel maintenance, since the electric motor allows us to work without noxious emissions and pollution due to oil or fuels.
The battery charger can be mounted onboard the machine, and allows recharging also during work, when the machine is stationary.
Using the display, all the machine parameters are always monitored:
Traction and utility batteries (48V and 24V) charge levels
Vehicle speed
Slope
Total and daily working hours
Total travel and daily mileage
Alarms available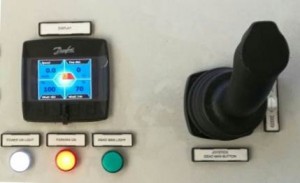 FUNCTIONS
Weight up to 25 ton
4 low voltage inverters (48V)
4 AC motors
40kw max. power
48V batteries
Up to 7.00% slope
Machine control display
Fingertip or friction hold joystick, with operator control
Control panel
Settable working speed and safety
Service tool for customer's setting